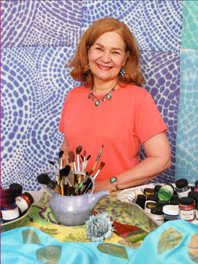 Photo courtesy of Houston Woman Magazine
www.houstonwomanmagazine.com
Carolyn Dahl's passions are dyed and painted textiles and manipulated/collaged paper. Beginning with ideas from her journals and poetry, she explores the possibilities of each medium. The resulting artworks have been shown in many Museums (New Orleans Museum of Art, Mint Museum, Santa Fe Art Museum, Textile Museum, Birmingham Museum of Art) and Art Centers (Chicago Textile Arts Center, Brookfield Craft Center, Arrowmont School of Arts and Crafts, American Museum of Art & Design, and Houston Center for Contemporary Craft).
Magazines such as American Craft, World of Embroidery (England), Surface Design Journal, Quilting Arts Magazine, Quilter's Newsletter Magazine, Southwest Art, House Beautiful, Houston Home & Garden, Fiberarts, Quilting Today, Architecture Minnesota, Quilting Ideas (Better Homes & Gardens), The Flying Needle, and Miniature Quilts have featured her work.
Her dyed textiles appear in five Books: Artworks, Art for Upper Secondary (Singapore), Art in Fiber 2012, Fiberarts Design Books Three, Five, and Six, The New Photocrafts, and The Ribbon Project. Her colorful paper baskets and vessels can be seen in six Books: Papermaking in Basketry, Basketry Roundup Vol. 1 and 2, Paper Sculpture (including the cover), The Guild 7, in which Carolyn was an American Crafts Award winner, and 500 Baskets.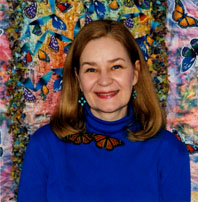 Carolyn with two newly-hatched Monarch butterflies.
Carolyn is the Author of 3 art books: First and Second editions of Transforming Fabric : 30 Creative Ways to Paint, Dye, and Pattern Cloth (Krause Publications) and the nature printing book Natural Impressions: Taking an Artistic Path through Nature (Watson-Guptill Publications). She has been a featured guest on several Television shows: Carol Duvall Show and Simply Quilts, both on Home & Garden Television, and Sew Creative and Creative Living on PBS.

Carolyn is also a frequent Lecturer and Instructor at conferences around the country: Handweavers' Guild of American Convergence Conferences (Washington, D.C. and Minneapolis), West Coast Quilters' Conference (Sacramento), The National Quilt Museum (Paducah, KY), Quilting-By-The-Lake (Syracuse, NY), Houston International Quilt Festival, American Needlepoint Guild national conferences (Winston-Salem and Houston, where she was the keynote speaker), The Canadian Embroiderers' Guild (Ontario), Federation of Fiber Artists (Texas), Nature Printing Society (Florida) as well as Houston's Contemporary Arts Museum Art After Schools Program, its High School for the Visual and Performing Arts, and an Art Program in the Harris County Jail.

Carolyn's artworks have been exhibited in Galleries such as: Del Mano Gallery (Los Angeles, CA), Katie Gingrass (Milwaukee and Santa Fe), Virginia Breier Gallery (San Francisco), Elaine Potter Gallery (San Francisco), Albertson-Peterson Gallery (Winter Park, FL), Running Ridge Gallery (Santa Fe), Dairy Barn Cultural Arts Center (Athens, OH), Javier Puig Gallery (Minneapolis), Banaker Gallery (Walnut Creek), International Gallery (San Diego), Elizabeth Fortner (Santa Barbara), River Run Gallery (Ketchum, ID, two-person exhibition), Joan Robey Gallery (Denver), Artspace (Kohler, WI), Gallery 500 (PA), University of Delaware (Newark), Southwest Center for Art (San Antonio, solo exhibition), San Jose Museum of Quilts, Firehouse Gallery (Milwaukee), The Art Institute of Houston and The Jung Center (Houston, solo exhibitions), International Gallery (San Diego), Gallery 5 (Tequesta, FL, solo exhibition), Craftwork Gallery (Houston, two-person exhibition with Piero Fenci), and in Italy and Amsterdam.

Carolyn's Commissions and Collections include: Landsdowne Conference Center (Washington, D.C.), Hines Industrial (Denver, CO), Bremond Corporation (Houston, TX), Fine Arts Museum of the South (Mobile, AL), Tiffany and Company (Houston, TX), Sara and Bill Morgan, Andre' and Virginia Bally, Various Private Collectors.

Carolyn is also a published Poet, and in 2015, she won a national ekphrastic poetry competition co-sponsored by Public Poetry (www.publicpoetry.net and the Museum of Fine Arts, Houston. She is a co-author of the poetry-plus-art book The Painted Door Opened.

Carolyn was an active

Member

of the Advisory Council for the Houston Center of Contemporary Craft (www.crafthouston.org) for ten years, participating on both the Artist-in-Residence and Exhibition Committees. She also served on the Board of the Women in Visual and Literary Arts (www.wivla.org) and on its Advisory Council. She currently enjoys being a part of the Mutabilis Press Board (www.mutabilispress.org).

Besides producing art works in her Houston, Texas, studio, Carolyn raises butterflies in her kitchen and sets them free in her garden.