Natural Impressions
Reviews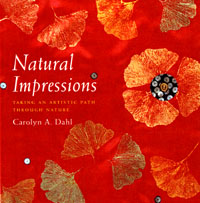 Creative Crafter Magazine

This is a must-have book for anyone who loves nature, crafts and exploring creativity, and wants a source of inspiration that will last for many years. In other words, get this book for yourself, keep it next to the bed or your favorite chair, and buy at least one more to give as a gift so you won't have to share!...It's beautiful--a true celebration of nature and the ways in which nature and creativity are connected.




Dharma Trading Company

Carolyn Dahl's beautiful, inspiring and enlightening new book about creating art with nature.....the examples are amazing!. On one level, she guides the reader through the process...using a variety of techniques and mediums....On another level, and equally inspiring, she writes about the many ways nature can impact the creative spirit. She writes beautifully of her own personal artistic journey and encourages the reader to explore nature with an open mind and heart. We recommend this book for beginners and advanced fiber artists alike.




Rubberstampmadness

....nature is a primal source of artistic inspiration. Carolyn Dahl understands this, and here she calls upon her deep training in the print arts to guide you along a path of images, patterns, colors and textures from the natural world. The results are a gorgeous book, filled with art fit for a gallery. Leaf, fish and flower patterns offer especially compelling imagery, for paper or fabric, and Dahl shares her mastery of color and composition to propel your understanding of the print arts. A whole chapter specifically on rubber stamps is well-integrated into her printmaking approach. Reach for the stars with this $19.95 release.




Nature Printing Society

....Carolyn Dahl's new book will be an eye-opener for you.....Carolyn takes each process and adds a flip of creativity....she shows you how to double print with complementary colors...that was new to me and I've been to a lot of workshops! ....Carolyn shows you a new and easier way to print......I challenge you to read this book and not find something that will get your creative juices running......A quality production with gorgeous four-color illustrations.




Newspaper Interview with the Author

In lectures, she (Dahl) often asks: "When was the last time you looked closely at a tree or picked up a leaf? When was the last time you planted a flower or touched the earth?" Many can't remember, or they realize it's been a long time. "One of the things I think nature does is ground us," Dahl said. "I think there is something about digging in the dirt or picking up a leaf or making contact with nature that speaks directly to your body and calms it down." In Natural Impressions....Dahl shows how to make art from objects in nature. A deeper truth runs through her book as well. "I have had a lot of people buy this book who just want to look at the photos or read the essays.......they tell me that after reading it, they look at nature differently. And that's what I want."


Copyright © 2004 - 2012 Carolyn Dahl
All images and text are protected by copyright law and may not be reproduced in whole or in part
without the written consent of Carolyn A. Dahl.
Dahlstudio@aol.com.